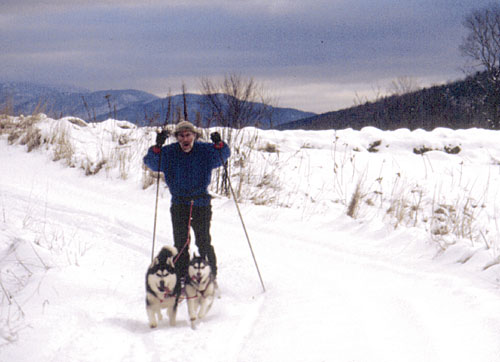 We are not offering dogsled rides or skijoring lessons or anything else involving our dogs.
Skijoring Lessons
If not being told to "heel," does your dog try to pull your arm off when walking on a leash? If so, your dog may have potential for skijoring. Skijoring lessons are available year round for humans and your dog(s). Learn from trainers & dogs with many years of experience. (20+ years skijoring for the humans.)
Try this fast-growing Nordic sport of either skating-style or classical style cross-country skiing with your dog(s) pulling you as you ski behind them. After introductory training on easy terrain, you and your dog will soon be following us while we play follow the leader and skijor with one or two of our dogs.
Your Skills & Gear
For the safety of you and your dogs, you should be an intermediate or better x-country skier before trying this sport.
We'll supply the special skijoring gear, which is available for purchase if you wish, but you will need to provide your own warm outdoor clothing. Dress in layers for the cold weather. Bring your own x-country skis, boots, & poles—or rent them locally from our wonderful sponsors Blueberry Lake Cross-Country Center or Clearwater Sports. (Other great local shops rent as well.)
We do not permit metal edge skis at our lessons—for the safety of all the dogs.
About Your Dog(s)
To be a skijoring dog, your dog should be healthy with good hips and back (checked by your veterinarian),
weigh about 35 pounds or more, and like to run in front of you.
We recommend talking to your vet first to let her/him know you'd like to have your dog work in harness and try skijoring. Even though the dog will be pulling from the chest, their hips and back are very much involved so must be healthy. (Some breeds are genetically prone to hip dysplasia, a degenerative disease.) Skijoring dogs are athletes so injuries are possible, such as shoulder and leg sprains or cuts to the paw pads. Your dog should have "good feet."
Your dog can be either a purebred member of any number of breeds or a mixed breed "mutt."
To work with us and our dogs, your dog must be up-to-date on all vaccinations for rabies, DHLPP, and Bordetella (kennel cough), and have a negative test for heartworm. Please bring a copy of your rabies and vaccination certificates or fax it to us in advance with your reservation form.
Ideally, your dog should instinctively like to pull and want to be running ahead of you—but we can work with you and your dog and evaluate for that trait.
A Inquiry/Reservation Form is here.
Reservations & Directions
We will confirm your reservation via e-mail and will send you directions for where to meet us for your skijoring lesson. (We vary our lesson locations based on current trail conditions. Be sure to provide us with the local number of where you will be staying in case of any last minute need to change locations.)
Cancellations
If you need to cancel your lesson, a refund, less a $25 cancellation fee will be given if written cancellation is received up to 7 days prior to the scheduled lesson. That cancellation fee may be applied for another lesson later this same season if any other opportunities are available due to our booking schedule (and your schedule).
If you cancel less than 7 days before your lesson the full deposit will be forfeited if we cannot rebook that time with another client.
If Atii Sled Dogs needs to cancel due to trail conditions or any other reason, your full deposit will be refunded. If possible, your booking will be rescheduled for a mutually convenient date during this winter season.
Other Information
A "Liability Waiver & Damage Release" form must be signed by all adults (age 18 & over) & a parent/guardian for those under age 18. Skijor at your own risk. Our dogs are well trained, and yours might be, too, but this is an adventure sport where anything can happen—hopefully nothing eventful—especially if there are loose dogs, deer, turkeys or other critters surprising the team while we're on the trails.
Atii Home · Dog Sled Rides · Rides Update
Rates for Rides · Skijoring Lessons · Skijoring Rates
Equipment · Educational Programs · About Us
Atii FAQ · VSEP/Space Lady/Atii Home

Atii Sled Dogs
Mad River Valley · PO Box 550 · Moretown, VT 05660
Phone: 802-496-3795 · Fax: 802-496-3765
atiisleddogs@madriver.com
www.AtiiSledDogs.com
All photos, art & content copyright © 2003-2006 Atii Sled Dogs
All rights reserved.
No photo, drawing, or text may be reproduced in any form without written consent.
Written consent is necessary before linking this site to yours!
Please send your requests to:
AtiiSledDogs@madriver.com or
Atii Sled Dogs, PO Box 550, Moretown, VT 05660
This page last updated Dec. 12, 2007.