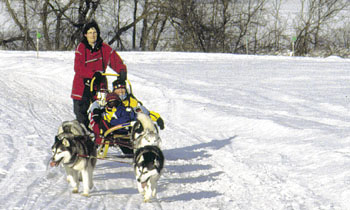 ---
We are not offering dogsled rides or skijoring lessons or anything else involving our dogs.

---
2006-2007 Rates for Dogsled Rides
| | |
| --- | --- |
| 1 adult | $150 |
| 2 adults | $250 |
| 1 adult + 1 child (age 3-10) | $250 |
| 1 child (age 5-10) | $150 |
| 2 children (age 5-10) | $200 |
| 3 children (age 5-10) | $250 |
The entire experience is 2½-3 hours. We usually run 6-10 miles, but this may range from 4-12 miles, depending upon conditions. For a detail of how this time is spent, please see FAQ #5.
A longer experience (4-6 hours) may be possible depending upon conditions, and must be scheduled in advance. There is an additional fee for that adventure.
Total passenger weight must be about 200 pounds or less.
Children ages 3 & 4 must ride with an adult, parent or guardian over the age of 16.
Payment
We accept cash, personal checks, travellerís checks, or money order payable to Atii Sled Dogs. A 50% deposit is required when scheduling your reservation. The balance is due when you meet us for the start of your dog sled ride adventure.
Please mail your deposit to: Atii Sled Dogs. P.O. Box 550, Moretown, VT 05660.
Reservations & Directions
We can confirm your reservation via e-mail and will send you directions for where to meet us for your dog sled ride. (We vary our ride locations based on current trail conditions. Be sure to provide us with the local number of where you will be staying in case of any last minute need to change locations.)
Cancellations
If you need to cancel your ride, a refund, less a $50 cancellation fee will be given if written cancellation is received up to 7 days prior to the scheduled ride. That cancellation fee may be applied for another trip later this same season if any other opportunities are available due to our booking schedule (and your schedule).
If you cancel less than 7 days before your lesson, the full deposit will be forfeited if we cannot rebook that time with another client.
If Atii Sled Dogs needs to cancel due to trail conditions or any other reason, your full deposit will be refunded. If possible, your booking will be rescheduled for a mutually convenient date during this winter season.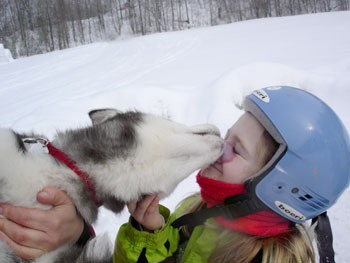 Atii Home · Dog Sled Rides · Rides Update
Rates for Rides · Skijoring Lessons · Skijoring Rates
Equipment · Educational Programs · About Us
Atii FAQ · VSEP/Space Lady/Atii Home

Atii Sled Dogs
Mad River Valley · PO Box 550 · Moretown, VT 05660
Phone: 802-496-3795 · Fax: 802-496-3765
atiisleddogs@madriver.com
www.AtiiSledDogs.com
All photos, art & content copyright © 2003-2007 Atii Sled Dogs
All rights reserved.
No photo, drawing, or text may be reproduced in any form without written consent.
Written consent is necessary before linking this site to yours!
Please send your requests to:
AtiiSledDogs@madriver.com or
Atii Sled Dogs, PO Box 550, Moretown, VT 05660
This page last updated Dec. 12, 2007.