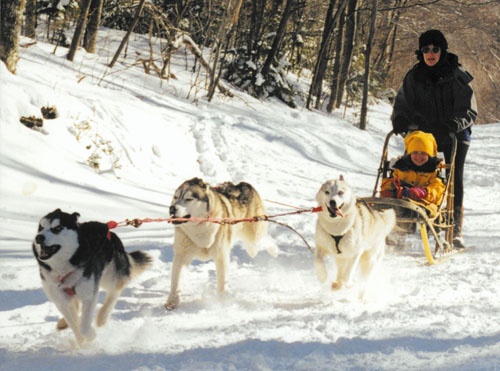 ---
We are not offering dogsled rides or skijoring lessons or anything else involving our dogs.

---
Dog Sled Rides
Atii Sled Dogs offers dog sled rides to the general publicóbut at your own risk of fun and addiction, meaning you will like it so much you'll want to come back for another ride with us. (You won't be the first to do so.)
This is a winter sport, dependent on natural snow and cold temperatures. We only give rides when trail and snow conditions are safe for our sled dogs & passengers. Trail conditions may change daily or even hourly due to weather conditions. This means rides are usually 6-10 miles in length, but they may range from 4-12 miles, using a 4-, 6- or 8-dog team, depending upon conditions and other variables.
Plan on 2½ to 3 hours for your adventure. This includes harnessing and hitching the team to the sled, the dog sled ride, hot cocoa or hot cider after the dogs are watered and snacked, and time for questions & answers and hugging the dogs.
Mushing is a physical activity, sometimes even for a passenger. The dogs are strong, but there are limits to their ability to pull. Passengers may be asked to get out of the sled and walk or even help push the sled, especially if there is a hill. (Consider it part of the mushing experience, if you should be so lucky.) You should be in decent physical condition, able to get in and out of the sled by yourself and, if necessary, walk along the trail. Our job as mushers, even as passengers, is to be part of the team and to make it easier on the dogs.
Since we are a small kennel with a limited number of dogs, passengers must weigh a total of about 200 pounds fully dressed in warm winter gear & boots. Young kids over age 3 are welcome to ride with an adult. We ask all guests to be honest with your weight when you send in your reservation form. (We will consider this "sensitive" private information, not to be shared.)
Some might consider this an "extreme sport" and you must ride at your own risk. Our dogs are well trained, but anything can happen in this outdoor, winter adventure sport —hopefully nothing eventful—especially if there are loose dogs, deer, turkeys or other critters surprising the team while we're on the trail. All adults (age 18 & over), or a parent/guardian for those under age 18, will be required to sign a "Liability Waiver & Damage Release" form before any ride. You are welcome to bring and wear a helmet.
Your adventure can consist of helping us get the dogs ready to run, or you can just sit on an insulating pad inside the sled bag, snuggled in a fleece blanket and enjoy the scenic ride. (Donít forget to bring your camera.)
Rides are available any day of the week, but as we are a small kennel offering only private tours, rides are limited and must be booked ahead. A lot of people request their rides for the weekend, so weekend availability may be limited. If you are able to, consider a weekday ride.
We prefer to run early mornings as it is colder and the dogs love it cold, but since conditions vary daily, contact us as soon as you can to request your preferred date for a ride. Emails are great as we are often away from the telephone doing dog chores, doing a school program, or out on the trail. (If you call or are sending a fax, please do not do so after 8:30 pm. Kennel chores start early in the morning.) Check our Rates page and our FAQ page for additional information.
Atii Home · Dog Sled Rides · Rides Update
Rates for Rides · Skijoring Lessons · Skijoring Rates
Equipment · Educational Programs · About Us
Atii FAQ · VSEP/Space Lady/Atii Home

Atii Sled Dogs
Mad River Valley · PO Box 550 · Moretown, VT 05660
Phone: 802-496-3795 · Fax: 802-496-3765
atiisleddogs@madriver.com
www.AtiiSledDogs.com
All photos, art & content copyright © 2003-2007 Atii Sled Dogs
All rights reserved.
No photo, drawing, or text may be reproduced in any form without written consent.
Written consent is necessary before linking this site to yours!
Please send your requests to:
AtiiSledDogs@madriver.com or
Atii Sled Dogs, PO Box 550, Moretown, VT 05660
This page last updated Dec. 12, 2007.