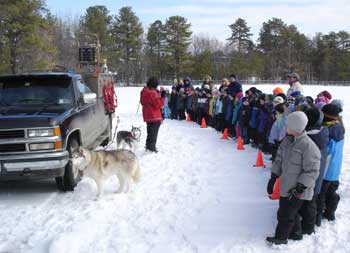 Atii Sled Dogs is indebted to many sponsors
who help immensely to promote our
racing & educational outreach.
Dog sledding is a team sport of dogs working together harmoniously in unison, but we also have many humans who are a huge part of our team. Without the incredible support from many wonderful private landowners and the generous sharing of their land with Atii Sled Dogs, we would not be able to train our dogs, race, take kids with special needs and challenges for rides, take other passengers out on tours, or pursue our dog-powered sports. We are also grateful to our trail team: the folks who help us by packing and grooming these private and other public trails to make it easier and safe for our dogs to use. So to all of you kind-hearted folks who share your time, energy, and various resources with us in all these different ways--a heartfelt THANK YOU from the humans and dogs of Atii Sled Dogs! We sincerely appreciate you helping us to preserve this time honored tradition and sport. Thanks for being part of the Atii team!
For information on Vermont Adaptive Ski & Sports programs visit www.vermontadaptive.org
Atii Home · Dog Sled Rides · Rides Update
Rates for Rides · Skijoring Lessons · Skijoring Rates
Equipment · Educational Programs · About Us
Atii FAQ · VSEP/Space Lady/Atii Home

Atii Sled Dogs
Mad River Valley · PO Box 550 · Moretown, VT 05660
Phone: 802-496-3795 · Fax: 802-496-3765
atiisleddogs@madriver.com
www.AtiiSledDogs.com
All photos, art & content copyright © 2003-2006 Atii Sled Dogs
All rights reserved.
No photo, drawing, or text may be reproduced in any form without written consent.
Written consent is necessary before linking this site to yours!
Please send your requests to:
AtiiSledDogs@madriver.com or
Atii Sled Dogs, PO Box 550, Moretown, VT 05660
This page last updated Dec. 12, 2007.