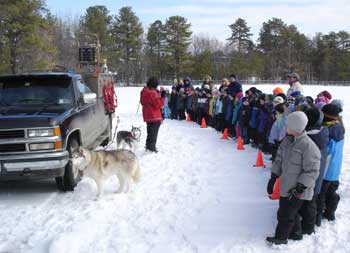 We are not offering dogsled rides or skijoring lessons or anything else involving our dogs.
Sled Dog Education Programs
As a longtime educator and a NASA Space Ambassador, Gail has left her classroom and expanded her teaching by working with teachers and students in their classrooms as she shares her favorite topics.
She provides sled dog education programs (with slides, videos, dogs, a sled and gear) as well as space education programs and professional development workshops to schools in Vermont and elsewhere. As an education consultant, Gail has even facilitated and presented educational programs about Mars with students and educators in the Yukon Territory of Canada.
That lucky work project gave her the opportunity to have traveled twice throughout the Yukon, and explored some of the very large Northwest Territory venturing into the Arctic Circle once. On her first visit to the Yukon she also traveled into a small section of huge Alaska, Northwest Territory, and British Columbia.
As a person who enjoys solo adventures (as well as traveling with others), she went solo snowshoeing and camping on both trips when her education project was completed. A real thrill for her was to have gone dog sledding on the famed Lake LaBarge with two mushers who competed in the grueling 1,000+ mile Yukon Quest sled dog race. (Purportedly much harder than the Iditarod race.)
A person who dreams big, Gail hopes to find a way to get back to the Far North again for an extended trip to the Yukon, NWT, and Alaska in order to run her own dogs there in the winter, paddle down the rivers and do more spectacular aurora watching. (Northern lights are great in Vermont, but are more frequently visible with really impressive big sky displays up there.)
For more information and rates about sled dog education programs for schools, organizations, and the general public contact Atii Sled Dogs.
A Inquiry/Reservation Form is here.
SUMMER--FALL--WINTER & SCHOOL YEAR 2013-2014
Please read the update posts on the Dog Sled Ride Update page. If anything changes, it will be posted there, as well as on our Facebook page and via Twitter: Atii Sled Dogs @9dognight. I tweet and post education information and resources on Facebook almost daily.
NASA and Mushing
The obvious connection between sled dogs and space education is that Gail does both. The unobvious connection, that there really is a NASA project that involves sled dogs, can be found in a pdf, but stay tuned to this site (and the Vermont Space Education Program site) for more details.
EARTH DAY IS EVERYDAY
We care about the planet, our environment, climate change/ global warming and related issues. We always have and always will. Traveling by dog power is certainly one way to be kind to our planet, to remember and honor the past, and to think about our children's future.
Educators: Email me if you are interested in taking a professional development workshop this summer--related to sled dog education.
Students will find some related activities and links at our sister site, VermontSpaceEducation.org:
Activities and Challenges
Climate Change/ Global Warming/ Meteorology and other Links
Atii Home · Dog Sled Rides · Rides Update
Rates for Rides · Skijoring Lessons · Skijoring Rates
Equipment · Educational Programs · About Us
Atii FAQ · VSEP/Space Lady/Atii Home

Atii Sled Dogs
Mad River Valley · PO Box 550 · Moretown, VT 05660
Phone: 802-496-3795 · Fax: 802-496-3765
atiisleddogs@madriver.com
www.AtiiSledDogs.com
All photos, art & content copyright © 2003-2006 Atii Sled Dogs
All rights reserved.
No photo, drawing, or text may be reproduced in any form without written consent.
Written consent is necessary before linking this site to yours!
Please send your requests to:
AtiiSledDogs@madriver.com or
Atii Sled Dogs, PO Box 550, Moretown, VT 05660
This page last updated Dec. 12, 2007.