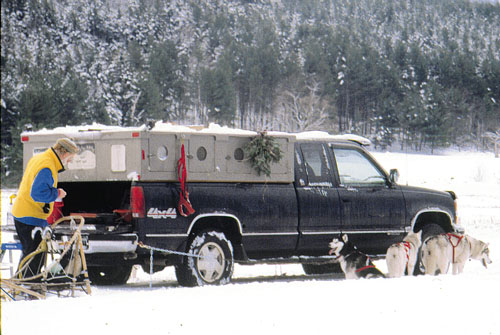 We are not offering dogsled rides or skijoring lessons or anything else involving our dogs.
Atii Sled Dogs
Located in the scenic, rural, farming and ski resort community known as the Mad River Valley in north central Vermont, we are experienced mushers with a small kennel of AKC purebred Siberian Huskies. We are recreational mushers as well as racers—and sled dog race organizers.
We are happy to educate and share a taste of our fun and passion for our beloved dogs and dog-powered sports.
Our kennel name: Atii (pronounced "Ah-tee") is an Inuit word for "Let's Go!"—which is what we say when we release the brake and snowhook and get the team heading out on the trail. (No, we don't say "Mush!") They are always eager to go on an adventure with us—and we hope you are, too.
Atii Home · Dog Sled Rides · Rides Update
Rates for Rides · Skijoring Lessons · Skijoring Rates
Equipment · Educational Programs · About Us
Atii FAQ · VSEP/Space Lady/Atii Home

Atii Sled Dogs
Mad River Valley · PO Box 550 · Moretown, VT 05660
Phone: 802-496-3795 · Fax: 802-496-3765
atiisleddogs@madriver.com
www.AtiiSledDogs.com
All photos, art & content copyright © 2003-2006 Atii Sled Dogs
All rights reserved.
No photo, drawing, or text may be reproduced in any form without written consent.
Written consent is necessary before linking this site to yours!
Please send your requests to:
AtiiSledDogs@madriver.com or
Atii Sled Dogs, PO Box 550, Moretown, VT 05660
This page last updated Dec. 1, 2006.