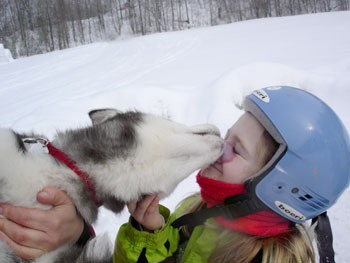 Winter Update
As fully explained in our updates on the Rides Update page, we are offering the following services for the current Winter season. Please read the Winter Update page for the most recent information about our current dog family.
Education and Public Programs & Demos
Everything But A Ride
"Everything But A Ride" is our "meet and greet" sled dog education visit (which is everything we usually do except for the ride). We will meet you for a hands-on visit. You will see all the gear (and meet the dogs). We will explain how everything works and, if dogs and conditions permit, we will take the dogs out for a training run (with no passengers). Even without the ride component it's still a fun and special outdoor adventure to do as an adult or with your kids.
We offer this experience only during the morning and only once a day. You must schedule this in advance--we are not able to schedule this for the same day you call. We are only a 2-person operation and will get back to you as soon as possible. Our scheduling fills up quickly, especially during holidays, so please contact us well in advance.
A Inquiry/Reservation Form is here.

"Everything But A Ride" means you would:
Meet the dogs at the trails we use (with all the pets and dog kisses you can handle);
See all the gear, sleds and equipment we use;
Sit in the sled and stand on the runners to try the sled (without the dogs attached);
Help harness and hook up the dogs;
See a demonstration training run if conditions permit (sled, skijor or wheels) so you can see what mushing is all about, but unfortunately you won't get a chance to be in the sled to go for a ride with the dogs.
As usual, we'll continue to offer Vermont hot cider or cocoa at the end of your visit.
If we are able to actually run dogs you are welcome to bring your x-c skis or snowshoes and try to follow us along the trail for a better view of the dogs in action. You can see us leaving, on the trail or on the return loop back to the dog truck where we began with you.
As an economic stimulus we are offering this at a very reduced rate from the cost of a dog sled ride:
Meet The Sled Dogs - "Everything But A Ride"
Rates for 2009-2010
1 adult must accompany every 3 kids under age 13

1 or 2 people
$75
Next Person (3rd)
$20
4th Person
$20
5th Person and Each Additional Person
(up to 10 people)
$15 per person




Here's The Math

1 adult
$75
6 people
$135
2 people
$75
7 people
$150
3 people
$95
8 people
$165
4 people
$105
9 people
$180
5 people
$120
10 people
$195

Contact us about group sizes and rates for schools and youth groups which is a different situation.
We hope you will join us for a "meet and greet" as described above—a memorable learning and hands-on experience, just without the ride.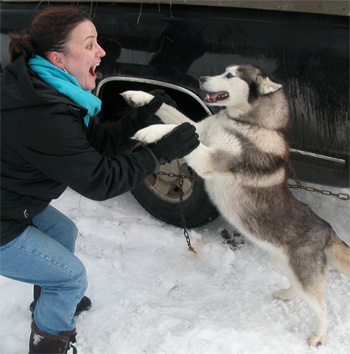 Atii Home · Dog Sled Rides · Rides Update
Rates for Rides · Skijoring Lessons · Skijoring Rates
Equipment · Educational Programs · About Us
Atii FAQ · VSEP/Space Lady/Atii Home

Atii Sled Dogs
Mad River Valley · PO Box 550 · Moretown, VT 05660
Phone: 802-496-3795 · Fax: 802-496-3765
atiisleddogs@madriver.com
www.AtiiSledDogs.com
All photos, art & content copyright © 2003-2010 Atii Sled Dogs
All rights reserved.
No photo, drawing, or text may be reproduced in any form without written consent.
Written consent is necessary before linking this site to yours!
Please send your requests to:
AtiiSledDogs@madriver.com or
Atii Sled Dogs, PO Box 550, Moretown, VT 05660
This page last updated Jan. 3, 2010.